Faro, Algarve Shopping Centres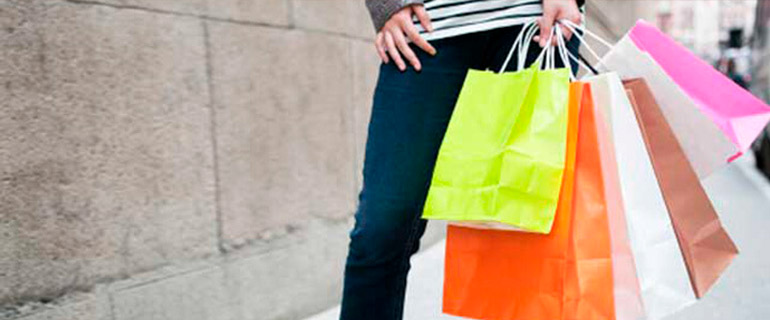 Algarve Shopping
With the recent opening of a brand new shopping centre called MAR SHOPPING in Loulé, there are now 4 decent shopping centres along the Algarve. Mar Shopping is also home to the new IKEA Store, the 2nd store in Portugal. There are many more shops around, in the little towns and port areas, like Portimao and Albufiera, but when the weather isn´t great or if you are needing a bit of retail therapy and some entertainment for the kids like soft play areas, cinema and amusement arcades, then shopping centres are generally the best place to hang out.
The Portugese Shopping Centres are fantastic, they really think more about design, resting places and spots for mums to sit down and feed their baby. Food Halls have highchairs and stations for heating up babyfood and you can also rent pushchairs and wheelchairs in the centres too which is fantastic. Nearly all the shopping centres have designated parking for Mum & Toddler and also for People with Disabilities. Parking is also outside, or undercover and free!
All the Shopping Centres, Guia, Forum and Aqua are partically covered which is great when the weather is nice as you feel you are still in the fresh air, not good when it pours down though.  The shopping centres are open long hours, generally from 9am / 10am until 11:00pm and often until 12:00 pm during the summer months and Christmas. Finally, if you are worried about the language, don´t be, the Portuguese speak great English and generally really helpful.
This brand new shopping centre is home to all the usual high street shops, designer outlet, outdoor leisure area and also the second IKEA in Portugal.  Situated in Loulé, if driving,  take the A22 – Exit 13, N125-4 Loulé Sul.  You can also get the by bus on the EVA Faro – Loulé – Faro line.   There are so many shops including Bershka, A Loja Do Gato Preto, Flying Tiger and many more.
Guia Algarve Shopping Centre
Guia Shopping is situated the Albufiera area which is between Forum Algarve, Faro and Aqua Shopping Centre, Portimao. This is probably the smallest of the 3 shopping centres where you will find the practically the same shops as the other 2 shopping centres like, Zara, Zara Home, Massimo Dutti, Morgan, Berska, Parfois Jewellery etc.
Upstairs there is a large food hall with some great little places to eat, our regular places are the falafel & kebab bar and also the salad bar. All at very good prices. Just next to the food hall is a 9 screen cinema. Some films are in English, but you do need to check beforehand. You can also rent pushchairs and kids pushalong carts here which is great. Just opposite Guia you will see another Commercial Area where Iceland Food have recently opened.
The shopping centre is open from 9am around 11pm. The hours change slightly during the summer months and holidays. For information on how to get to Guia Shopping Centre you can have a look at the website below and also the latest opening times, shops and events. The website is in English too.
The Forum Algarve – Faro
This shopping centre is very close to the City Centre of Faro and 10 to 15 minutes from the Airport. Forum Algarve is arranged over 2 floors has all the usual shops like, Zara, Massimo Dutti, Salsa Jeans and a few little Portugese Boutiques. There is also a huge hypermarket called Jumbo on the ground floor which sells everything from tvs to fruit and veg.
On the first floor there is a multiplex cinema and also the food hall. We regularly go to the salad bar there as its great value, fresh and quick. In this area you will also find baby stations where you can get high chairs and also heat up food.
Forum Algarve is located in Faro City itself it is very easy to find, (head in the general direction of the airport and follow the signs into Faro). You will see big signs for the shopping centre on the left hand side. The shops are open every day between 9am and 11pm and in the summer months and leading up to Christmas they are open until Midnight. For the most up to date information on events, opening times, shops please visit their website below.
Aqua Portimao Shopping Centre
This is a new shopping centre along the Algarve and probably our favourite out of all of them. It´s new, modern, light and it has some amazing architectural designs and we just loved it! There are 2 floors of shops including the Algarves first Primark, Kiko Makeup and all the usual Zara, Massimo Dutti, H&M. Amongst all the shops there is also Jumbo Supermarket which sells absolutely everything, just like Tescos. If you see it, pop into the chocolate shop there too, lovely chocolate and they make fantastic little gifts too.
There is a fantastic area for young kids upstairs to sit and watch tv, play video games and run around. There is even an area for kids in highchairs to feed so you can make as much mess as you want. We absolutely loved the design and the way that mums, dads and kids have all been thought about in the designing.
Aqua Portimao is open from 9am until 11pm and until 12pm during the summer months, Fridays & Saturdays, Christmas and Holidays. The shopping centre is located in Portimao area. From the Airport direction take the A22 heading to Portimão. Exit to Portimão, heading towards the city centre and after the Hospital, exit to Cardosas on right just next to the tunnel – at the roundabout follow signs Aqua Portimão. It was quite clearly marked. For the most up to date information on events, opening times, shops etc, please visit their website.