Faro Airport to Seville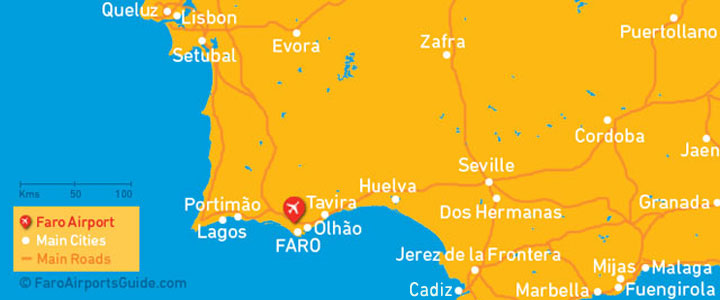 Travelling between Spain & Portugal
Every day we receive questions about travelling between Spain and Portugal. If you are driving, then the journey is pretty easy, especially if driving from the Costa Del Sol. Depending whereabouts you live, the journey is around a 4 hour car journey and the roads are really great roads to drive on.
There are a number of ways to drive from the Costa del Sol to Portugal, through Malaga, through Ronda or taking the new road from Algeciras through Jerez which has some beautiful scenery on the way. All along the routes are places to stop and grab something to eat if you need. Don´t forget to always carry your driving license with you and also that Portugal is one hour behind Spain.
Faro to Seville
If you are looking to travel between Faro & Seville by public transport, there is a bus that travels all along the Algarve to Seville. There are between 2-6 buses a day (depending on the time of year you are travelling) that start at Lagos and go to Seville. Other stops along the Algarve apart from Faro are Lagoa, Lagos, Olhao, Portimao, Tavira and Vila Real S.Antonio. The duration of the journey varies depending on the time of day you travel, but averages around 3 hours. But take into consideration that Spain is also an hour ahead of Portugal.
Faro to Seville Fares & Timetables
For the most up-to-date bus times, prices etc please click through to the eva-bus.com which is pretty easy to follow and also in English. An Adult Single ticket is €18,00 and Adult return is €30.60, but please do check the website as prices and timetables do change.