Live Flight Departures Faro Airport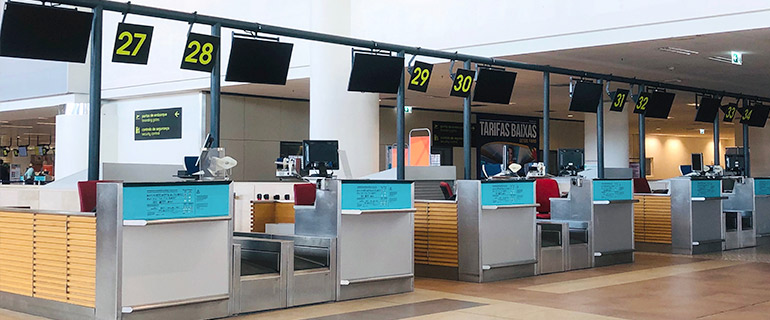 Faro Airport Departures
You can check your Faro Airport Departures below. Even if your flight is delayed, you still need to arrive at the airport as per the original time of flight/check-in. Be sure to leave enough time for your departure, taking into consideration any traffic you may encounter (peak periods), queues at check-in and security.
Faro Airport Departures – Further Information
Although Faro is a small airport there are in fact 62 check in desks although during the off peak winter months only 26 are open.
The terminal building is a small two storey building and the departures area and desks are in the right of the building as you look at it.
The main drop off areas are under a new shelter which is directly in front of the departures door.
Check-In Times
For Schengen Flights you need to check-in 90mins before the flight
For Non Schengen Flights you need to check-in 120 minutes before flight
For all other flights 180 minutes is recommended.
Dropping Off at Faro Airport
If you are dropping people off at Faro Airport then look out for Kiss & Fly where you can leave your car free of charge for up to 10 minutes.
up to 10 minutes free
20 minutes 2€
30 minutes 4€
40 minutes 6€
50 minutes 8€
60 minutes 10€
Parking
If you are leaving a car at the airport for any length of time, then head for P3 which is the cheapest car park….the costs are currently €5.00 per day…not bad really! At peak periods you may want to think about booking ahead. You can find more information about Faro Airport Parking here.
Returning A Hire Car
If you are returning a Hire Car make sure that you read the return instructions thoroughly as they can have different arrangements. The main depots for the car hire companies are at the very far end of the Airport Terminal, car park 4 (P4), just follow the signs. As you head towards the airport on the roundabout as you enter there is a petrol garage. I mention this in case you have opted to return the car with a full tank of fuel.
Passenger Assistance
For those of you who require assistance, look for the "My Way" kiosks where you can call for assistance if it is unmanned. This service needs to be booked 48 hours before your flight with your airline or travel agent.
Porter Service
If you have heavy (or a lot) of bags then there is also a porter service available upon request from 8:00 am – 11:00 pm. Reservations should be made 48 hours in advance and payment is in cash only. Contact: info_faro@ana.pt
Left Luggage at Faro Airport
If you have to leave your accommodation early and have a late night flight, the good news is that there is Left Luggage at Faro Airport so you could leave your luggage there and have a day in Faro City.
Cafes, Shops & Restaurants
Once inside the departures hall you will find a couple of coffee shops including Costa Coffee. Once you pass through security there are more choices of places to eat including Subway, Burger King, Rosso Pomodoro, Delta and Eating Point (this may vary depending on where you are travelling to).