Arrivals at Faro – Live Arrivals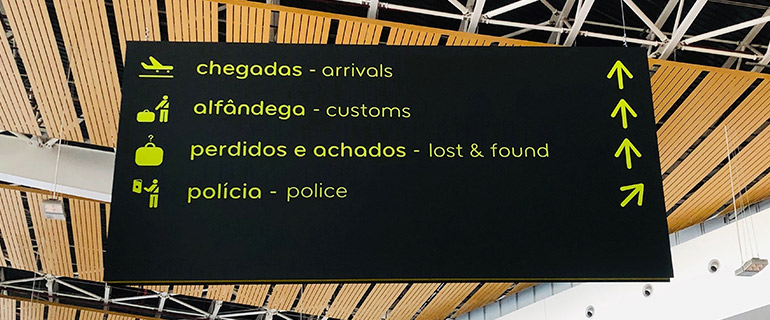 Arrivals at Faro Airport
Picking people up at Faro Airport? Be sure to check the flight before you leave to collect people as you don´t want to be hanging around any longer than necessary. Using this chart, you can find all the flights, make sure you select the correct time period (below the date).
Faro Airport Arrivals – Further Information
After landing and collecting your bags you come through into the arrivals hall on the ground floor.It's a long terminal building with arrivals at one end and departures at the other, with a few shops and cafes between them. There is wifi at Faro Airport, make sure "Airplane Mode" is turned off and wifi is turned on. Select VINCI Airports WIFI.  Then fill in your email and country.
Picking up at Faro Airport
If you are picking people up at Faro Airport then you can wait with your car free of charge for up to 10 minutes.
up to 10 minutes free
20 minutes 2€
30 minutes 4€
40 minutes 6€
50 minutes 8€
60 minutes 10€
Assistance at Faro Airport
For those of you requiring assistance there is a service at all Portuguese airports called "My Way". You need to book through your airline or travel agent up to 48 hours in advance.
Meeting Points
If you are meeting someone then it´s best to meet them at the coffee shop (Cafe Central) directly in front of where you come through into the arrivals area. There is also an outdoor cafe, Travellers Rest (weather permitting).
Car Hire
If you have a hired a car simply take the first door on the right as you enter the arrivals area. You do not need to go through to where everyone waits to meet and great. Once outside there is a short 2 minute walk with your trolley through a small tunnel that brings you directly into the car hire area.
Buses
Follow the exit (first door on right) for the Faro Airport Buses. There's no train station at Faro Airport but there is in Faro City.
Private Transfers
Quite often people think private transfers are a lot more expensive than taxis.  This isn´t always the case but there are a few extras which you don´t get with a taxi.  You can book in advance and pay in advance so no worrying about having Euros on you when you arrive.  The driver should speak English and they will meet you in the arrivals hall.  See how much a  Faro Private Transfer is here.
Taxis
If you are taking a taxi from Faro Airport you can find more information and prices here, Faro Airport Taxis.
Trolleys & Porter Service
Trolleys are available in the baggage claim area and in the car parks. If you have heavy luggage there is a porter service available upon request.  There is also a porter service available upon request from 8:00 am – 11:00 pm. Reservations should be made 48 hours in advance and payment is in cash only. Contact: info_faro@ana.pt
Left Luggage
There is a left luggage area at Faro Airport and you can find more information here Faro Airport Left Luggage.  This is great too if you have to check out of your accommodation early and you have a late flight.  You can spend your day in Faro City.